Chorrgorr --> Krasnaya Polyana (critère/criteria 1)
The Chorrgorr Pereval is perhaps a good 4x4 track but nothing to see with cycling. The local persons tell us that the maps aren't good and that the road doesn't exist.
The dutch manager answered us like that in dutch language :
"Ik zal eerst je vragen beantwoorden, voorat ik vragen ga stellen.
question nr 1
Is this a surfaced road ? or a gravelled road (rideable with a road-bike or an MTB ?) to the chorrgorr pass ?
Er een een gravel weg naar het centrum van Khibiny en daarna een oude geologen in richting van de Chorgorr, maar die houd op aan de rand van een dicht begroeid bos.
question nr 2
If not, is there a good surfaced road leading to the ski resorts somewhere (the highest one will be the best). What's the heigth, the difference of level and the interest ?
Het oude skicomplex is niet geschikt, het nieuwe heeft een helling die vrij vlak en naar de top van de Akyajvonchorr 1075m gaat. Die wodt ook gebruikt voor de MTB afdalings wedstrijden. Kirovsk ligt op een hoogte van ongeveer 300m en het nieuwe skicomplex op ongeveer 500m. Op de bike naar boven gaat niet en naar beneden is gevaarlijk."
It seems very clear. He sent us some very obvious pictures :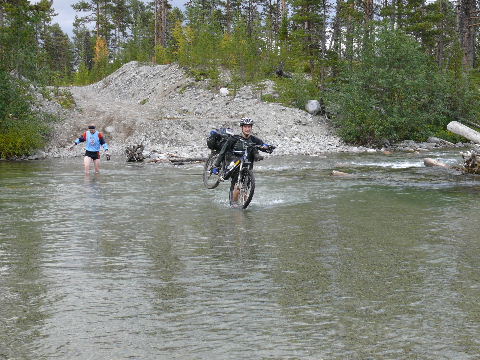 In the region of Sochi, east of the Black Sea (neat our Crimean other BIGs), the winter olympic games will happen in 2014. The secretary of the tourist office answered the following text about our request to the climb to the new ski resort Kranaya Polyana :
"Je ne suis malheureusement pas spécialiste en la matière et vais demander
à des connaisseurs faisant partie de Notre Office de Tourisme de vous
répondre concernant les itinéraires choisis. Je peux néanmoins dire que le
parcours Sochi - Krasnaya Polyana se termine à environ 550 mètres
d'altitude au pied de la station de ski Roza Khutor. Krasnaya Polyana est
un village et, une fois que l'avez dépassé, sont réparties 4 stations de
ski (situées entre 2 et 5 km du village): Gornaya Karoussel, Laura
(Gazprom), Alpika-Service, Roza Khutor. Cette dernière est située en bout
de vallée et n'ouvrira ses portes que la saison d'hiver prochaine
(2010/2011). Ele accueillera les épreuves de ski alpin lors des JO de
2014."
It seems now that another road high speed is under construction with many galleries but the old mountaineous road will lead cyclists in about 60km from the sea (5m) to approximatively 1.000m in Roza Khutor (perhaps the good future name for the big). It would be good, normally. It's of course better currently than the unrideable Chorrgorr. Another advantage : the proximity of other BIGs.
Here is the road :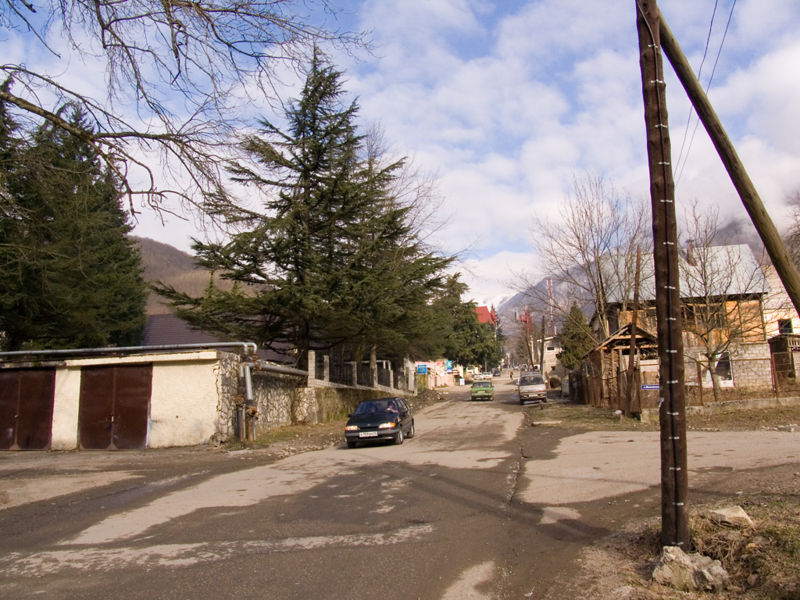 . The road will see in the coming years all the villages for the olympic athletes built just nearby.
Here is the current top (foot of the pists) in the village. Soon higher in Roza Khutor.